Nilesh J. Patel, M.D.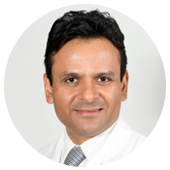 Nilesh J. Patel, M.D.
Foot and Ankle Orthopedic Surgeon
Board Certified: American Board of Foot and Ankle Orthopedic Surgeon
Attending Physician:
JFK Medical Center, Edison NJ Menlo Surgery Center, Edison NJ
Dr. Nilesh Patel graduated from Stevens Institute of Technology. Continuing his education, Dr. Patel earned his medical degree from the University of Medicine and Dentistry of New Jersey. Following Medical School, he completed his General Surgery internship and Orthopaedic Surgery residency at the State University of New York, Downstate (Formerly known as The State University of New York Health Science Center at Brooklyn). Dr. Patel received his subspecialty training in foot and ankle reconstructive surgery at the University of Pittsburgh Medical Center.
After completing his Orthopaedic residency and foot and ankle fellowship, Dr. Patel joined Edison-Metuchen Orthopaedic Group in 2003. He specializes in the treatment of foot and ankle, as well as knee disorders. Some of the procedures Dr. Patel performs include foot and ankle fusions, tendon repairs and reconstruction, knee and ankle arthroscopy, forefoot reconstruction – including bunion correction, and fracture repair. Dr. Patel is highly recommended amongst colleagues and patients alike.
Dr. Patel is a Diplomat of the American Board of Orthopaedic Surgery (ABOS). He is a fellow of the American Academy of Orthopaedic Surgeons (AAOS) and is an active member of the American Orthopaedic Foot and Ankle Society (AOFAS). Additionally, he has made numerous clinical presentations detailing basic science and Orthopaedic Surgery research.

To see more testimonials from Dr. Patel's patients, click here.