Mohnish N. Ramani, M.D.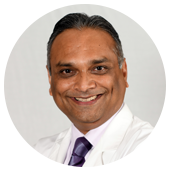 Mohnish N. Ramani, M.D.
Sports Medicine, General Orthopaedic Surgery
Board Certified: American Board of Orthopaedic Surgery
Attending Physician:
JFK Medical Center, Edison NJ Menlo Surgery Center, Edison NJ
Dr. Ramani attended the Stevens Institute of Technology in Hoboken, New Jersey after being awarded a four-year Stevens Academic Fellowship. A member of the Dean's Honor List for all semesters, he graduated as an inductee of the Alpha Epsilon Delta Premedical Honor Society. He completed his medical studies at the University of Medicine and Dentistry of New Jersey (UMDNJ) where he was inducted into the Alpha Omega Alpha Honor Medical Society. Dr. Ramani continued his post-graduate training at UMDNJ-University Hospital in Newark, New Jersey, completing his General Surgery internship and Orthopaedic Surgery residency.
After completing his residency, Dr. Ramani continued at Thomas Jefferson University Hospital in Philadelphia as a Sports Medicine Fellow in the Department of Orthopaedic Surgery. During his fellowship, he was involved in the care of the Philadelphia Phillies professional baseball team, the Philadelphia Wings professional lacrosse team, and collegiate athletes of both St. Joseph's University and Haverford College where he gained vast experience in management of injuries of the knee, shoulder, and elbow.
Dr. Ramani joined Edison-Metuchen Orthopaedic Group in 2002 and serves as attending orthopaedic surgeon at JFK Medical Center in Edison, New Jersey. He provides evaluation and treatment of knee, shoulder, and elbow injuries due to sports, work, slip and fall, and motor vehicle accidents. He specializes in arthroscopic surgery of the knee and shoulder, including ACL reconstruction, meniscus repair, rotator cuff repair, instability repair for shoulder dislocation, and SLAP repair. He also provides injection treatment for the knee, shoulder and elbow including cortisone injections, viscosupplementation injections for knee arthritis, and PRP injections.
Dr. Ramani provides general orthopaedic care to adults of all ages. He is board certified by the American Board of Orthopaedic Surgery and is a member of the American Academy of Orthopaedic Surgeons, Arthroscopy Association of North America, and New Jersey Orthopaedic Society.
Patient Testimonials

To see more testimonials from Dr. Ramani's patients, click here.