Jennifer Paventi, PT, OCS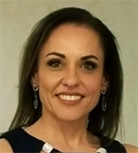 Jennifer Paventi, PT, OCS
Physical Therapy
Jennifer Paventi, PT, OCS is our Managing Partner and Director of Physical Therapy and has been a practicing physical therapist for 20 years. She graduated from the SUNY Health Science at Brooklyn/Downstate Medical Center in 1997 and also possesses a degree in Economics from Fairfield University. She immediately began working at JFK Medical Center upon receiving her degree and has worked along the continuum of care including acute care, sub-acute rehab, home care, and predominantly in the outpatient arena specializing in orthopedics and vestibular rehabilitation. During her 17 years at JFK, she spent 16 years in the outpatient department honing her skills and educating new staff. She also worked in conjunction with neurologists in the Balance Clinic in the New Jersey Neuroscience Institute. Her love of orthopedics prompted her to obtain her Orthopedic Clinical Specialist (OCS) certification via the American Board of Physical Therapy Specialities in 2009.
Jennifer Paventi assisted the Edison-Metuchen Orthopaedic Group in spearheading our physical therapy clinic in July of 2014. The clinic's success has allowed for an increase in staff size as well as clinic size with our move to the 4th floor this past December.
This Brooklyn native resides in Edison, with her husband David and 2 teenage children, and is grateful for the opportunity to serve the community in which she lives. She remains passionate about assisting others in maximizing their functional potential, and is committed to her continued professional growth as well as the growth and success of this clinic.