Gloria Liu, A.P.R.N., B.C.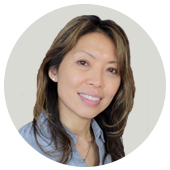 Gloria Liu, A.P.R.N., B.C.
Nurse Practitioner
Board Certified:
American Academy of Nurse Practitioners American Nurses Credentialing Center
Gloria Liu graduated magna cum laude from the University of New York at Buffalo after keeping her name on the Dean's List for four straight years. Following graduation, Gloria worked as Senior Staff Nurse in the post-operative unit at New York University Medical Center in New York City. She moved on to a Registered Nurse position at John F. Kennedy Medical Center in Edison, New Jersey, where she served as team leader, caring for surgical and non-surgical orthopaedic patients. Pursuing her interest in orthopaedics, she regularly attended related medical conferences and hospital committee meetings.
Gloria joined the Edison-Metuchen Orthopaedic Group as Head Nurse in 1993. She has worked coordinating nursing care as well as putting a real focus on patient education. In 1999, after a decision to further advance her training, Gloria attended the University of Medicine and Dentistry of New Jersey – Adult Nurse Practitioner program and earned a Master of Science in Nursing. She was the recipient of the Walter and Louise Sutcliffe Foundation Scholarship.
After 12 years of orthopaedic nursing experience, Gloria now serves as our Advanced Practice Nurse. She performs physical examinations and diagnoses and treats disease and injuries, including spine care and fracture care. She continues to conduct regular in-patient and family education programs regarding orthopaedic illnesses and post-operative regimens. Gloria is a member of the American Academy of Nurse Practitioners and North American Spine Society.