EMOG News and Events
Pinnacle Health and Fitness Charity 5K (formerly HRC Charity 5K)

Sun October 6, 2019
Dear Event Sponsor,
Thank you again for continuing to support the upcoming Pinnacle 5K Benefiting GiGi's Playhouse.
We hoped you would consider using the attached letter to email your contacts (local clients/customers/vendors) to ask them to join in supporting the event by running, walking, or donating for the event on October 6th.
The letter provides the pertinent event info and can simply be attached in an email to your contacts.
We really appreciate your willingness to ask for additional support.
-Pinnacle Event Team
THANK YOU
Race Sponsors
We have been providing excellent orthopedic care to the community for over 30 years. Our doctors love to lecture to the community on different orthopedic topics. Below are lectures our doctors have done in the community.
Upcoming Lectures:
To be announced
Past Lectures:
April 2017:
Dr. Hassan lectured at Black Heart Cross Fit
May 2017:
Dr. Ramani lectured at The Club at Ricochet
June 2017:
Dr. Ryan orthopedic physician for Bishop Ahr High School lectured to the athletic directors of The Greater Middlesex Conference
October 2017:
Dr. Idank lectured at the Metuchen Library
November 2017:
Dr. Ryan lectured on winter sports injuries at Old Bridge High School to the coaches and athletes
Courier – News – Bridgewater, N.J.
| | |
| --- | --- |
| Subjects: | Patients; Surgery; Cartilage |
| Author: | Sparta, Christine |
| Date: | Jun 17, 2008 |
Rutgers University student Sayani Das Chaudhuri's time could be spent grappling with the likes of Beowulf, King Arthur and "The Canterbury Tales," but over the past year, she's had a bigger obstacle to face – two knee surgeries and an extensive rehabilitation.
Dr. Todd Ryan answers patient Sayani Das Chaudhuri's questions regarding Carticel treatment by using a skeleton model. Das Chaudhuri, an Edison resident, will be a senior at Rutgers University. JOE McLAUGHLIN/Staff photographer
Since high school, her knee periodically would give out. And last March, the Edison resident got out of bed, had a rough fall and fractured her kneecap.
"I didn't know it happened. A piece of patella was floating around my leg," says Das Chaudhuri, 20, who is working on a double major in medieval studies and art history at Rutgers and will begin her senior year in the fall.
Last May, she received a treatment called Carticel to repair her knee. The FDA-approved procedure uses the patient's own cartilage to grow new cells that can be implanted back into the body.
"She was significantly disabled when I first saw her," says Todd Ryan, D.O., who is Das Chaudhuri's orthopedic surgeon and first saw her while she was on crutches.
Ryan says she was a particularly good candidate for the surgeries because she had an isolated lesion on her knee. He says it's easier to address this problem because at the one-lesion stage, it's akin to catching the problem early.
"This procedure is the best option for getting near normal cartilage," Ryan says.
The doctor acknowledged his patient understood there were not a lot of options that would bring relief and, without treatment, it was likely Das Chaudhuri would develop arthritis.
The first surgery was an arthroscopic procedure that potentially would have pinned the lesion back in place, Ryan says.
But the surgery didn't fix the problem, so he had to take healthy cartilage from the knee for harvesting. The procedure lasts about 30 to 45 minutes. Patients then have to wait six weeks for the cells to be cultured before they can have the second surgery.
The next procedure – an extensive one – involves reimplantation of cells. In this operation, the edges of cartilage are cleaned up and the new cartilage cells are injected between the bone and the periosteum – a membrane that lines the outer surface of the bone.
Ryan says it took about three hours for Das Chaudhuri's surgery, but patients can spend as long as four hours on the operating table.
Ryan also says post surgery patients are non weight-bearing – meaning they can't put any weight on the leg – for approximately six weeks. They also work with path-of-motion machines immediately after the second surgery for about three to four weeks.
He says an ice machine can be used for pain – continuously whenever the person is sedentary – for three to four months after the second surgery.
Das Chaudhuri was afraid the second surgery would "ruin her whole summer" because she was confined to bed and worked with the path-of-motion machine for eight hours a day.
But while she missed going out with pals, often the party would come to her house. Her friends rallied around her, cheering up Das Chaudhuri by taking her out for sushi and to the movies.
Still, it takes awhile to resume normal activities. For six to 12 months after the second surgery, activities are limited, but walking is OK. Running and sports are not recommended for up to two years after this procedure.
Ryan, who has an office in Edison, says it takes that long for the cells to mature. But once they do, he notes that some studies indicate 90 percent of patients still are doing well a decade after the operations. But he also says that without treatment, patients can develop arthritis over time.
Ryan has been doing the procedure since 2002, but in Europe, it has been done for at least 25 years with good results. About a dozen doctors in New Jersey perform the Carticel procedure, and Ryan performs one or two a year.
"It has be the right kind of lesion, the right kind of patient," he says. "Not everybody is a candidate."
But Das Chaudhuri was, and now she definitely is on the mend.
"I can walk normally. I just can't run. It hurts after a long day of walking," she says, adding that she went to Montreal last August and got by with a little ice to soothe her after walking for long periods.
She misses working out at the Rutgers gym, but she still can hit the pool because water exercises have been part of her therapy. Still, Das Chaudhuri remembers when things were not so easy.
"I would cry in physical therapy because it was so painful," she says.
But she pushed herself to aid her healing process by doing the proper exercises. Now she feels 95 percent normal – and can even go out dancing.
This summer, she is making up for her recent lack of activity and is focused on the future.
She will take four summer classes and work two jobs, at Starbucks and as an intern at Princeton University's Firestone Library in the numismatic department (which studies coins, paper money and medals).
Das Chaudhuri also is looking ahead to graduate school, but is most anxious to finish her physical therapy. She will go three times a week for just over an hour each visit.
"I've regained most of my muscle mass in my right leg," she says.
She has Ryan to thank for that, even if she did have some jitters at first.
"I was scared something could go wrong, but it went perfectly," she says. "He was just amazing. He was always confident."
Christine Sparta: (732) 565-7270; csparta@mycentraljersey.com
Reproduced with permission of the copyright owner. Further reproduction or distribution is prohibited without permission.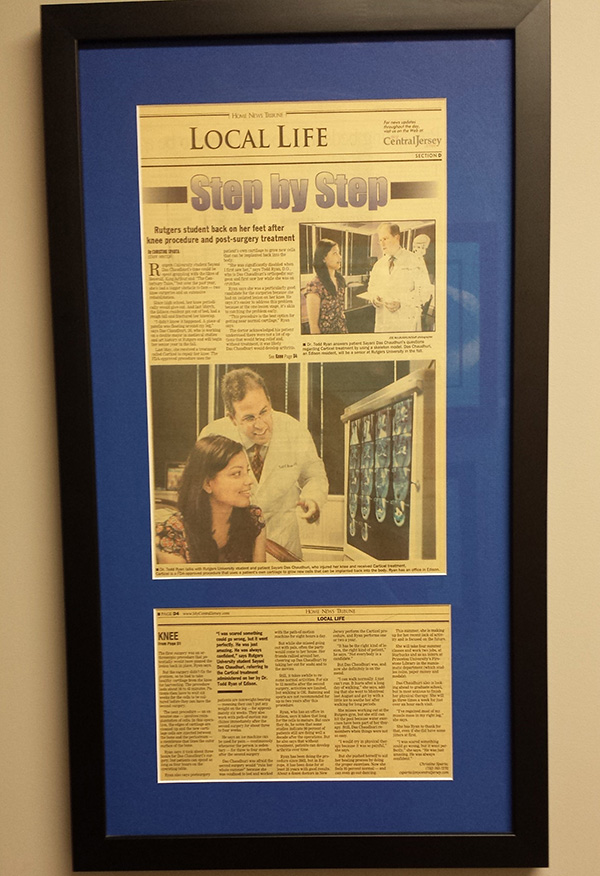 You will need the Adobe Reader to view and print these documents.